Every year Cementir undertakes an analysis of all the sustainability themes that can be considered relevant for the company and its stakeholders.
The definition of material themes
In 2021, the Group upper management was surveyed on its perception of Cementir challenges and the materiality matrix was updated according to the results of the survey, following a benchmark with a panel of companies operating in the cement sector and an investigation on the context and the challenges the sector must deal with. The review also considered the relevant topics coming from investors and ESG rating companies.
The results of the analyses confirmed the themes already identified in previous years, with increasing importance for both the company and the stakeholders, of the themes "Climate Change" and "Health and Safety", represented in the upper right corner of the graph.
At Cementir, health and safety have always been a driving force of our modus operandi. However, in the last year Covid-19 has changed the way we live and work in many different and unimaginable ways. Precisely for this reason we have coordinated and implemented a new series of measures at a global and local level aimed at containing the spread of Coronavirus both among employees and partners.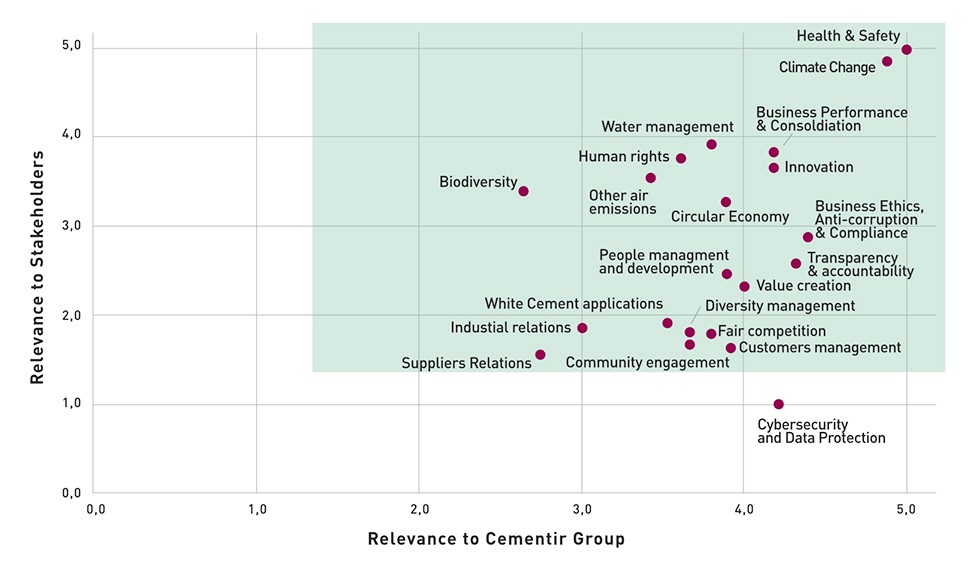 Who our Stakeholders are
We change methods and frequency of involvement of our stakeholders depending on the type of subject, topic of interest and local features. In consideration of the nature of "Holding" of the Parent Company, some of these stakeholders interface directly with the central structures, while others are strictly interested in local activities and the relationship with them is therefore delegated to local management.
The main Group stakeholders and the corresponding topic of interest are listed below.
Stakeholders and topic of interest