White Cement
Lehigh White Cement Co. LLC a 63.25% owned subsidiary, is the leader in the production and distribution of white cement in the United States. Lehigh White is the only manufacturer of white cement in the US, with two production plants: Waco, TX and York, PA with annual production capacities of 0.125 million tons and 0.14 million tons, respectively. The company also operates three import terminals (Tampa, Riverside and Port Everglades) and a network of over 40 warehouses and distribution centers across the United States.

The terminal in the port of Tampa is owned by Cementir Holding. With a capacity of 45,000 tons, the terminal has freight loading equipment and a rail link, which optimizes white cement distribution throughout Florida and the southwestern part of the United States.

Precast Concrete
Vianini Pipe Inc. has been part of the Cementir Group since 2005. Located in Whitehouse (New Jersey), the company produces two categories of concrete products: CPR or reinforced concrete products, both circular and elliptical and cylindrical pipes in prestressed concrete, including Jack Pipes and Box Culverts.

The products are primarily intended for the northeastern part of the United States, including the municipality of New York, and are also marketed in Florida and Puerto Rico.

Our assets
White cement production capacity
265,000 t
Ready mix concrete / Cast in-situ concrete

Steven Holl Architects
The Reach, Kennedy Center for the Performing Arts
USA | Washington D.C.
Cast in-situ concrete

Rafael Viñoly'
Manhattan 432 Park Avenue
United States | New York
GRC cladding

Diller Scofidio Renfro
Cast stone

Trahan Architects
United States | Louisiana
Ready-mixed concrete
Cast in-situ concrete

Rafael Moneo
United States | Los Angeles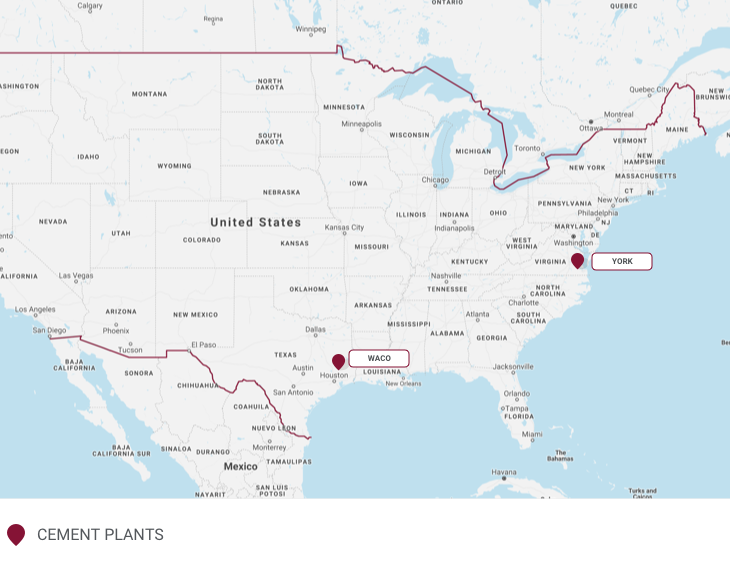 LEHIGH WHITE
CEMENT COMPANY LLC
1601 Forum Place
Suite 1110
West Palm Beach, FL 33401
USA
Tel: +1 561 812 7450
www.lehighwhitecement.com
GAETANO
CACCIATORE LLC
1601 Forum Place
Suite 1110
West Palm Beach, FL 33401
USA
Tel: +1 561 812 7450
Tel: +1 813 386 2290
VIANINI PIPE INC
81 County Line Road
Branchburg, NJ 08876
USA
Tel: +1 908 534 4021
www.vianinipipe.com