Cementir Holding has been present in China since 2004 with Aalborg Portland (Anqing), which produces and distributes white cement in the country.
The plant has an annual capacity of 750,000 tons of white cement and is located in Anqing, about 600 km west of Shanghai along the Yangtze River, with easy access to highway, sea and rail transport.
The Company operates its own quarry with abundant and high quality reserves and has one of the most technologically advanced production equipment. The plant has been granted received ISO 9001 quality certification.
The company, being the leading player in the Chinese market, has several sales offices including Shanghai, Guangzhou, Beijing and Chengdu.
Our assets
White cement production capacity
750,000 t
Chizhou Yangtze River Bridge
China | Anhui
GRC

Zaha Hadid Architects
MeiXiHu Int'l Culture and Art Center
China | Changsha
Precast concrete
GRC

Shanghai Architectural Design Institute, Gensler, Glumac
Johnson Control Asia Pacific Headquarter
China | Shanghai
UHPC

Shenzhen Huahui Design Co. Ltd
Cultural Center of Beicheng Central Park
China | He Fei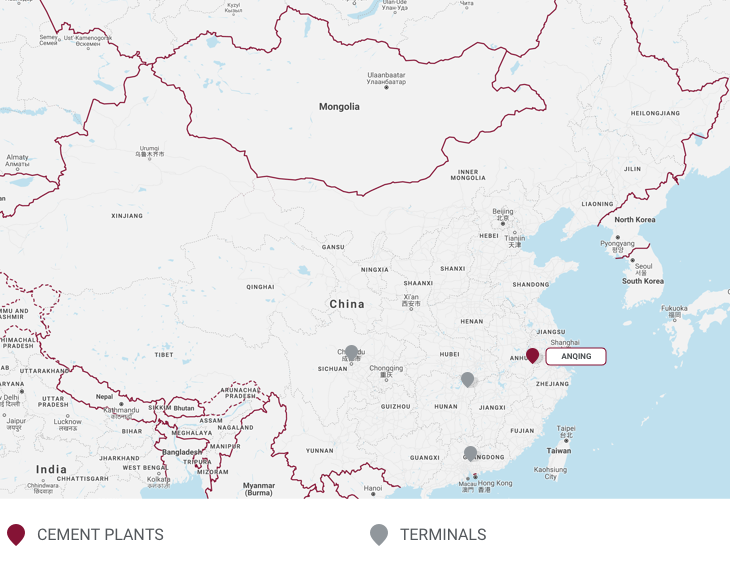 AALBORG PORTLAND (ANQING) CO.LTD.
Shangai Office: Rm. 1303
Mingshen Business Plaza 400
Caobao Rd.,P.R.C. 200233
Guangzhou Office: Rm. 1308-9
Nan Fang Securities Building,
East Tiyu Rd. P.R.C. 510620
Plant: Guanbing, Yangqiao Town of Anqing
Anhui P.R.C. 246000
www.aalborgwhite.com
www.aalborgportland.com.cn