CCB awarded Gold certificate by Concrete Sustainability Council
CCB, the Belgian subsidiary of Cementir group, has obtained the CSC (Concrete Sustainability Council) GOLD certificate for its quarries in Gaurain and Clypot in Belgium.
CSC certifies the responsible and transparent management of the entire value chain and attests to the company's sustainable, environmental, economic and social commitment.
The certification body SGS Intron Certificatie B.V. supported Cementir team throughout the certification process.
"Achieving this certification further highlights our commitment to meet climate change challenges and to support our customers in this approach by sharing the value creation. It is a great recognition of the work done by the CCB Aggregates team" said Fabrice Delaunoy, Director Aggregates.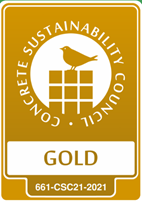 CSC Gold